Levering: 1 - 2 hverdage
Rentefri afbetaling for Call me-kunder
14 dages fri returret
Levering: 1 - 2 hverdage
Rentefri afbetaling for Call me-kunder
14 dages fri returret
Samsung smartwatch
Er du på jagt efter et nyt smartwatch? En af verdens førende producenter af smartphones, Samsung, er ligeledes en af de førende på markedet for smartwatches. Du kan derfor med ro i sindet vælge et Samsung smartwatch som dit næste "smarte ur".
Samsungs linje af smartwatches - Samsung Galaxy Watch - er blandt de bedste og mest avancerede på markedet. Her får du de nyeste og mest spændende funktioner, der gør dit smartwatch til så meget mere end bare et ur.
Herunder kan du læse mere om vores udvalg og finde dit nye Samsung smartwatch til en skarp pris.
Samsung Galaxy Watch 5-serien
Med introduktionen af Samsung Galaxy Watch 5 kommer vi endnu tættere på at have et ur, der kan alt det, som din smartphone kan. Med Galaxy Watch 5 kan du foretage opkald, modtage og sende beskeder samt bruge apps fra ikke kun Samsung men også tredjeparter. Der er altså en verden af spændende indhold og muligheder, der venter på dig med Galaxy Watch 5.
Galaxy Watch 5 holder også øje med din krop og din sundhed, hvis du ønsker det. Her kan du følge med i, hvordan du udvikler dig i din træning. Du kan få indblik i dine muskler, fedtprocent og sågar dine knogler. Du kan også få hjælp til at opnå bedre søvn med Galaxy Watch5.
Du kan selv designe dit Galaxy Watch 5, så du får det, lige som du vil have det. Og uret er desuden udstyret med det meget stærke Sapphire Crystal Glass samt en urkapsel af aluminium. Det gør, at du roligt kan være aktiv med dit Galaxy Watch 5 om håndledet. Det kan nemlig tåle at blive brugt.
Hvis du vil have det ultimative smartwatch fra Samsung, skal du vælge Galaxy Watch5 Pro. Med Galaxy Watch5 Pro får du selvfølgelig alle de samme funktioner. Men du får også mere avancerede Smart Home-funktioner, flere træningsfunktioner og endnu flere muligheder for at bruge dit smartwatch frem for din mobil.
Galaxy Watch5 Pro kan holde strøm i op til 80 timer. Det vil sige, at du får maksimal fleksibilitet samt høj brugervenlighed og altså et ur, der hjælper dig hver dag.
Galaxy Watch 4-serien
Samsung Galaxy Watch 4 og Samsung Galaxy Watch 4 Classic er navnet på de to smartwatches fra Samsung, der udgør den nyeste serie af deres Galaxy Watch-serie. Begge ure kan tilsluttes med enten Bluetooth eller LTE.
Som noget nyt kører Samsung Galaxy Watch 4-serien på Googles Wear OS 3 med Samsungs egen brugerflade bygget oven på. På den måde er der både plads til nye funktioner og alt det, du kender fra de tidligere smartwatches i serien.
Du kan nu hente endnu flere apps til dit Samsung Galaxy Watch 4, så du kan gøre uret til dit eget og få det ud af det, du ønsker.
Med en ny skærm, en ny processor, nye sensorer og en ny mikrofon, der skaber en bedre oplevelse, når du taler i telefon, er der så meget nyt Samsung Galaxy Watch 4, at det halve kunne være nok. Du får med andre ord ekstremt meget "smart ur" for pengene med Samsung Galaxy Watch 4-serien.
Samsung Galaxy Watch 4-serien er ikke kompatibel med iPhone. Det er de tidligere Samsung smartwatch-modeller.
Hvorfor skal du vælge et Samsung smartwatch?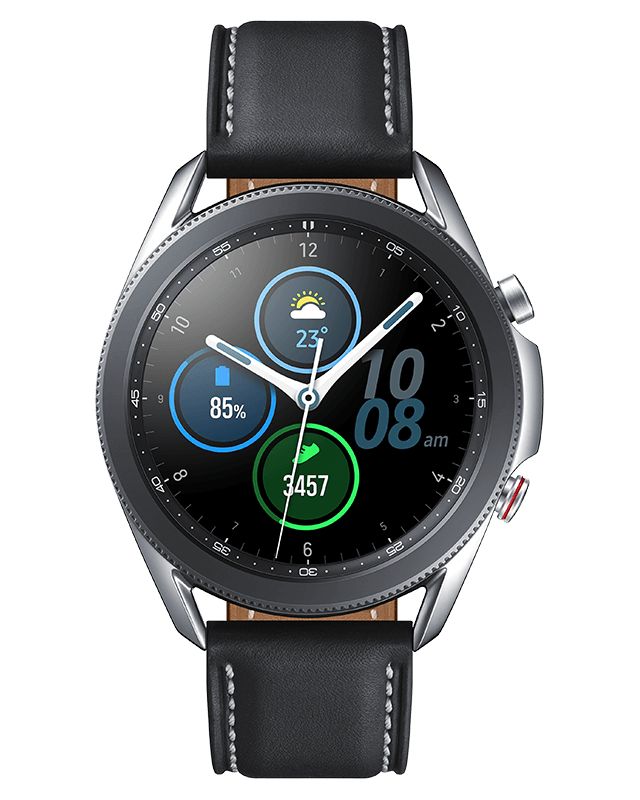 Hvis du vælger et Samsung smartwatch, så får du ikke bare en moderne smartwatch. Du får også et ur, der er skabt på baggrund af mange års erfaring og udvikling. Tilbage i 2013 kom det første Samsung Galaxy Watch med navnet Samsung Galaxy Gear. Her var nogle af funktionerne, at det kunne foretage opkald og sende beskeder. Ligesom langt de fleste smartwatches kan i dag.
Men siden da er udviklingen gået stærkt, og i 2018 kom det første rigtige Samsung Galaxy Watch. Det blev sidenhen udgivet med nye forbedringer, og i 2020 kom det meget roste Samsung Galaxy Watch 3. Her kunne du med dit Samsung Galaxy Watch få endnu mere ud af din træning og blive klogere på dit helbred takket være de avancerede funktioner i uret.
Også dengang var et Samsung Galaxy Watch blandt markedets bedste, og Galaxy Watch 3 blev en stor succes. Ikke overraskende fulgte Samsung trop med deres Samsung Galaxy Watch 4 i 2021. Og i 2022 kom efterfølgeren, Samsung Galaxt Watch 5.
Hvordan vælger jeg mellem alle smartwatches fra Samsung?
Hvis du står overfor at skulle vælge et nyt smartwatch, skal du selvfølgelig tage udgangspunkt i dine behov. Hvad skal dit smartwatch kunne? Det helt lette er jo at vælge det nyeste, for så kan dit Samsung smartwatch det hele og det nyeste. Men er behovet eller budgettet ikke til det, kan du sagtens vælge en ældre model.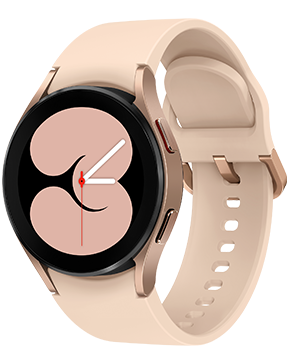 Smartwatches fra Samsung er nemlig alle avancerede og produceret i høj kvalitet. Det gør, at de holder længe, og du derfor sagtens kan vælge et smartwatch, der ikke er fra den nyeste serie.
Sammenlign de forskellige ure og se, hvilke modeller der har de funktioner, du har brug for. Det bedste smartwatch på markedet er ikke nødvendigvis det bedste for dig. Men vil du have det bedste, så anbefaler vi, at du vælger en af de nyeste modeller.
Tag også et kig på vores udvalg af Apple Watch og smartwatches til børn.