Levering: 1 - 2 hverdage
Rentefri afbetaling for Call me-kunder
14 dages fri returret
Levering: 1 - 2 hverdage
Rentefri afbetaling for Call me-kunder
14 dages fri returret
Apple watch
Præcise målinger, dybdegående design og et væld af smarte funktioner. Ordene er blot nogle af beskrivelserne på fremtidens armbåndsur – nemlig Apple Watch. Her får du en kombination af et normalt ur, som du kender det, men dit Apple Watch kan så meget mere end at vise klokken. Faktisk gør de mange funktioner, at uret minder mere om en lille smartphone. Hos Call me kan du blandt andet finde Apple Watches fra forskellige serier. De kan for eksempel måle iltniveauet i dit blod, afspille musik, måle din søvn, ringe og meget mere. Alt det wauw, du ønsker dig. Lige ved håndleddet.
Skærmbeskyttelse til Smartwatch
Mød fremtiden i dit Apple Watch
Læs beskeder uden at tage telefonen frem. Find nemt vej med indbygget GPS. Hold øje med støjniveauet omkring dig. Eller følg din daglige aktivitet. Med Apple Watch som dit ur har du altid adgang til vigtige informationer og funktioner. Hertil får du naturligvis det velkendte Apple-design med rene linjer og tidløse former. Drømmer du om et ur, der er smartere end nogensinde før, så kan et Apple Watch altså virkelig leve op til forventningerne.
Og du behøver slet ikke have din telefon på dig, når du tager afsted hjemmefra. Et Apple Watch kan nemlig blive tilkoblet din iPhone via Bluetooth. På den måde kan du stadig sende beskeder, besvare opkald og se notifikationer tikke ind. Præcis som på mobilen. Og det er alt sammen, mens du er på farten. Så går du aldrig glip af noget vigtigt.
Lyder det populære smartwatch som noget for dig? Så har vi hos Call me et bredt udvalg af Apple Watches og tilbehør. Du kan for eksempel finde ældre serier som Apple Watch Series 6 og den nyeste version fra Apple Watch Series 7. Derudover kan du kombinere de forskellige modeller med moderne, sporty samt tidløse urremme i forskellige farver. Gør derfor dit smartwatch til dit eget. Så passer det til netop din personlige stil og dækker dine behov.
APPLE WATCH SERIES 7 - STØRRE, BREDERE OG MERE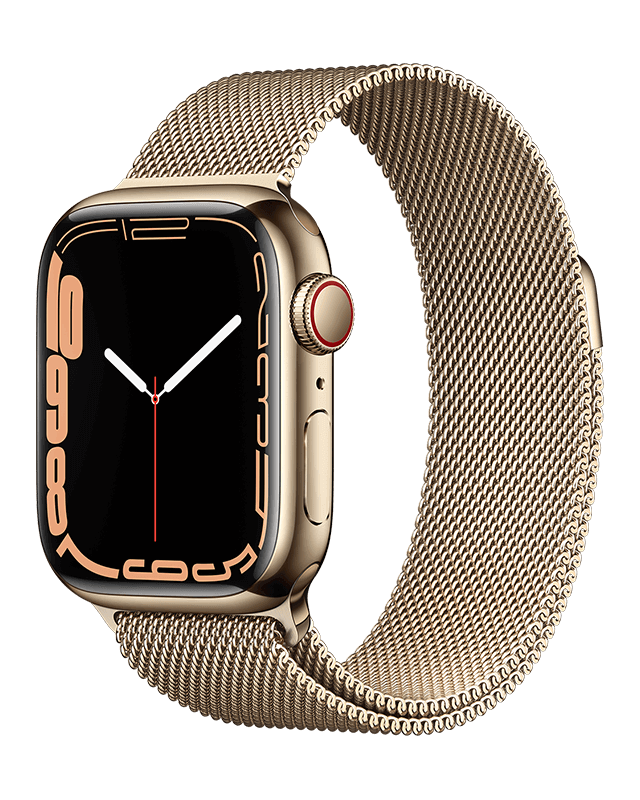 Med Apple Watch Series 7 får du endnu mere skærm, da rammen om skærmen er blevet 40% mindre. Dette gør, at skærmen er 20% større end på Apple Watch Series 6 og hele 50% større end på Apple Watch Series 3.
Apple Watch Series 7 er udstyret med en altid aktiv-Retina-skærm, der gør, at du altid kan se, hvad der sker på dit Apple Watch Series 7, selv uden at du behøver at løfte dit håndled. Ud over at være aktivt hele tiden, så er skærmen også mere modstandsdygtig end før.
Frontglasset er 50% tykkere end på forgængeren, hvilket beskytter bedre. Men samtidig er der reduceret på skærmtykkelsen andre steder, så du får en smallere men stærkere skærm.
Med Apple Watch Series 7 kan du måle iltniveauet i dit blod og få indblik i din egen sundhed. Du kan tilmed tage et elektrokardigram (EKG) og få indsigt i dit hjertes tilstand og funktionalitet.
Du kan også tage fuld kontrol over din søvn med appen Søvn. Søvn - altså appen - hjælper dig med at spore, hvordan du sover samt hjælper dig med at tilrettelægge din søvn bedst muligt.
Hvis du ikke altid får ladet dit Apple Watch Series 7 op om natten, så kan du også glæde dig over, at du kan lade det op med 80% på bare 45 minutter.
APPLE WATCH SE 2021: SÅ MEGET MERE FOR MINDRE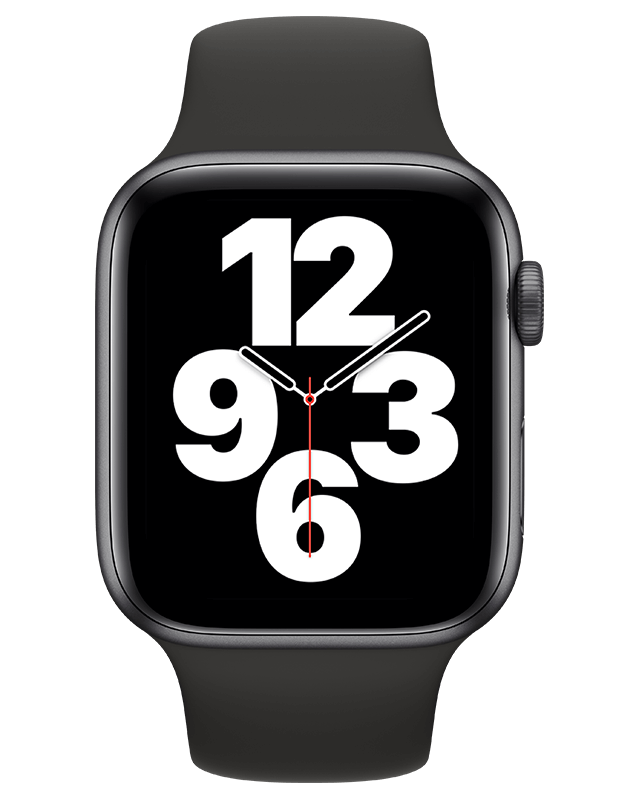 Tænk, hvis man kunne spare penge uden at nøjes. Uden for alvor at gå på kompromis. Men det kan du faktisk. Apple Watch SE 2021 har nemlig samlet alt det vigtigste fra Apple Watch i en pakke, der er lækker og fyldt med de bedste funktioner.
Med Apple Watch SE 2021 har du alt, du skal bruge, lige ved hånden. Og ikke i hånden. Din hånd er fri, og i stedet finder du funktioner som en Wallet fyldt med boardingkort, biografbilletter og andet på dit håndled.
Og på dit håndled kan du også altid finde hjælp. Her taler du bare til Siri, som svarer og adlyder din kommando. Straks finder hun det frem, som du ønsker, eller svarer på dit spørgsmål. Ligeledes kan dit Apple Watch SE også guide dig på rette vej via Apple Maps, helt uden at du skal have din mobil frem eller se på skærmen på dit ur.
Og dette kan også hjælpe dig med at finde dine mistede ting. Hvis din iPhone, dine Airpods eller din MacBook er væk, kan du finde dem igen takket være dit Apple Watch SE.
Apple Watch Series 6 - Hold motivationen oppe
Et af de nyeste skud på stammen fra amerikanske Apple er deres smartwatches fra Apple Watch Series 6. I denne serie får du rigtig gode smartwatches til især træning og sport. Du kan naturligvis også bare bruge dem i hverdagen. At sende beskeder, ringe oppe og lytte til musik er nemlig stadig muligt. Har du mobilforbindelse og trådløst abonnement, så kan du også bruge dem helt uden din telefon.
Mangler du en god træningsmakker, så er modellerne fra Apple Watch Series 6 helt sikkert et godt bud. Her kan du nemlig registrere alle de måder, du er aktiv på. Bevægelse. Motion. Svøm. Sov. Stå. Som noget ganske særligt har Apple Watch Series 6 også en innovativ sensor og app, der kan måle iltniveauet i dit blod.
De mange muligheder gør, at du får dybere indsigt i dit helbred og kan passe bedre på dig selv. Alt sammen i et lækkert design. De populære produkter fås blandt andet med urrem i rustfrit stål, der falder yderst elegant om håndleddet. Er det ikke din stil? Så kig også på de klassiske remme i læder og farverige nylon.
Desuden er Apple Watch vandafvisende ned til 50 meter. Rigtig godt til svømning, surfing og leg med vandballoner. Vær dog opmærksom på, at du ikke bør bruge dit Apple Watch til aktiviteter som dykning, vandski eller andet, der involverer høj hastighed igennem vand eller nedsænkning i dybere vand.
Mangler du godt tilbehør? Find lækre høretelefoner, covers og højttalere i vores brede udvalg.
Et Apple Watch gør din hverdag lettere
Først var der iPad'en, der blev kaldt en mini-computer. Senere kom Apple Watch i 2015, der kombinerer fordelene ved en iPhone og et sportsur. Fokus er at give dig masser af muligheder tæt på, så dine behov bliver bedst muligt dækket. Det er altså ikke nogen nyhed, at Apples mange produkter gør din hverdag lettere.
Når du bestiller hos Call me, så får du dit Apple Watch og de andre produkter til en stærk pris. Helt uden binding. De lave priser får du selvfølgelig også med vores abonnementer, så du ikke skal bekymre dig om dataforbrug. Hvis du gerne vil have et Apple Watch på afbetaling, kan du det. Når du har valgt dit smartwatch, kan du vælge afbetalingsperiode på tre forskellige måder. Det er helt rente- og gebyrfrit.
Vil du have mere underholdning lige i nærheden? Så har vi hos Call me et bredt udvalg af den nyeste elektronik på markedet. Heriblandt de populære iPads med krystalklar Retina-skærm og den nyeste software.