Levering: 1 - 2 hverdage
Rente- og gebyrfri afbetaling
14 dages fri returret
Levering: 1 - 2 hverdage
Rente- og gebyrfri afbetaling
14 dages fri returret
Samsung Galaxy Buds
Samsung Galaxy Buds giver en fordybende lydoplevelse, ligegyldigt om du bruger din smartphone, tablet eller computer. Uanset om du er på farten eller sidder foran en skærm, vil lyden være unik og perfekt med Samsung Galaxy Buds.
Samsung Galaxy Buds tilbyder komfort og den bedst mulige lydoplevelse. Det har aldrig været nemmere eller mere diskret at være til stede i det, du gerne vil, end når du har dine Samsung Galaxy Buds i ørerne. Med aktiv støjreduktion hører du kun, hvad du ønsker.
Bliv introduceret til Buds-serien med Samsung Galaxy Buds og Buds2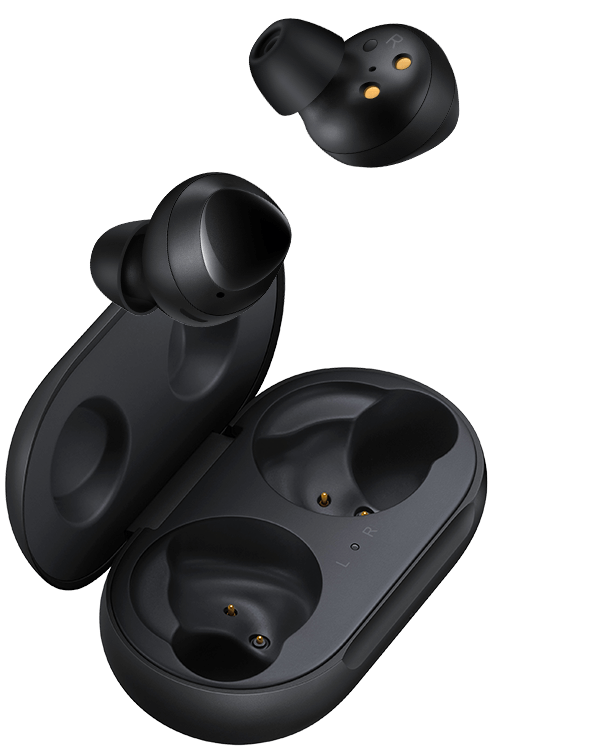 Den første serie af trådløse hovedtelefoner i Galaxy Buds-linjen var Samsung Galaxy Buds. De var en stor succes blandt både Samsung og andre smartphone-brugere. Så det var helt naturligt for Samsung at udgive opfølgningen til serien - Samsung Galaxy Buds2.
Med Samsung Galaxy Buds får du det bedste af moderne trådløse høretelefoner. Du kan bruge dine Galaxy Buds og Galaxy Buds2 uanset, hvad du foretager dig - du kan være ude at gå, sidde derhjemme og se film, spille spil eller være ude at løbe eller træne. Du kan bruge dine Samsung Galaxy Buds i næsten enhver situation.
Samsung Galaxy Buds er udstyret med en solid og dyb bas, og en krystalklar diskant, der giver dig et komplet lydbillede. Du føler dig, som om du står midt på en slagmark i dit spil eller midt i en koncertsal og lytter til dit yndlingsband. Alt dette takket være den avancerede lyd i Samsung Galaxy Buds. Galaxy Buds og Galaxy Buds 2 er også optimeret, så du kan tale i telefon uden forstyrrelser.
Selvom det er små in-ear høretelefoner, kan mikrofonen nemt opfange lyden af din stemme.
Der er tre mikrofoner og en dedikeret enhed i Galaxy Buds, der filtrerer støj fra og sender din stemme til modtageren. Galaxy Buds 2 er også lavet mindre, så de fanger mindre friktion fra vinden, når det blæser, eller du bevæger dig udenfor. Og Samsung Galaxy Buds sørger også for, at du kun hører det, du har brug for.
Faktisk kan Galaxy Buds 2 bortfiltrere op til 98% af baggrundsstøjen, så du kan være til stede i præcis den lyd, du ønsker. Derudover kan du med Galaxy Buds-appen justere din lyd. Du bestemmer selv med Samsung Galaxy Buds og Buds2.
Nyheden fra Samsung: Samsung Galaxy Buds2 Pro
Den seneste generation af Galaxy Buds er landet, og resultatet er Samsung Galaxy Buds2 Pro. Ved første øjekast ligner Buds2 Pro sin forgænger, men de er faktisk 15% mindre. Derudover er Buds2 Pro udstyret med 24-bit Hi-fi lyd og en tovejshøjttaler i hver øretelefon – og du vil helt sikkert kunne høre forskellen. Du skal dog have en kompatibel Samsung enhed. Samsung Galaxy Buds2 Pro fås i tre farver: Graphite, White og Bora Purple.
Ligesom sin forgænger er Buds2 Pro vandafvisende ifølge IPx7-klassificeringen, så de også er beskyttet mod både sved og regnvejr. Du kan derfor sagtens have dine Buds2 Pro med på løbeturen.
Samsung Galaxy Buds2 Pro har en batterilevetid på op til fem timer med aktiv støjreduktion (ANC) slået til, og op til otte timer uden ANC. Den medfølgende sag giver yderligere 20 timer med ANC og 30 timer uden. Buds2 Pro har faktisk 40% mere effektiv aktiv støjreduktion med adskillige smarte funktioner som Ambient Sound, Intelligent Conversation Mode og HD Voice, som forbedrer din lydoplevelse - også når du taler i telefon. Derudover understøtter Buds2 Pro Bluetooth 5.3, hvilket giver en hurtig og pålidelig forbindelse til din smartphone.
Samsung Galaxy Buds Pro løfter niveauet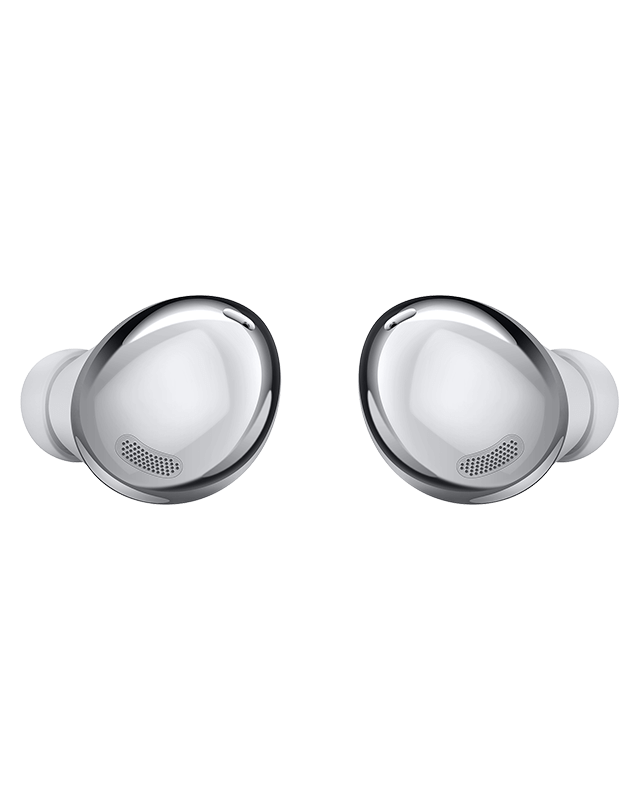 Hvis du vil have det bedste af alt, hvad Galaxy Buds har at tilbyde og lidt til, bør du gå efter Samsung Galaxy Buds Pro-serien af trådløse in-ear-hovedtelefoner. Galaxy Buds Pro er endnu bedre til at holde støj og forstyrrelser ude, hvor 99% af den omgivende støj bliver filtreret fra af den aktive støjreduktion (ANC). Du kan frit tilpasse den aktive støjreduktion til dine behov. Hvis du er på en bus eller et andet sted, hvor mange mennesker snakker, kan du skrue ANC helt op. Hvis du er et roligt sted eller gerne vil kunne orientere dig ud fra lydbilledet, kan du skrue ned for ANC på dine Galaxy Buds Pro.
Galaxy Buds Pro har også en samtaletilstand, der kan skrue ned for lyden, så du kan høre den person, du taler med. Og vi taler ikke om at kunne høre musik, når du taler med dine venner. Men hvis du bestiller kaffe på en café, kan Galaxy Buds Pro opfatte, at du taler og venter på svar. Og responsen vil ikke blive filtreret, fordi hovedtelefonerne opfanger dit lydmiljø. Alt i alt bliver dine samtaler og lyd bedre, end du nogensinde har oplevet før med Samsung Galaxy Buds Pro.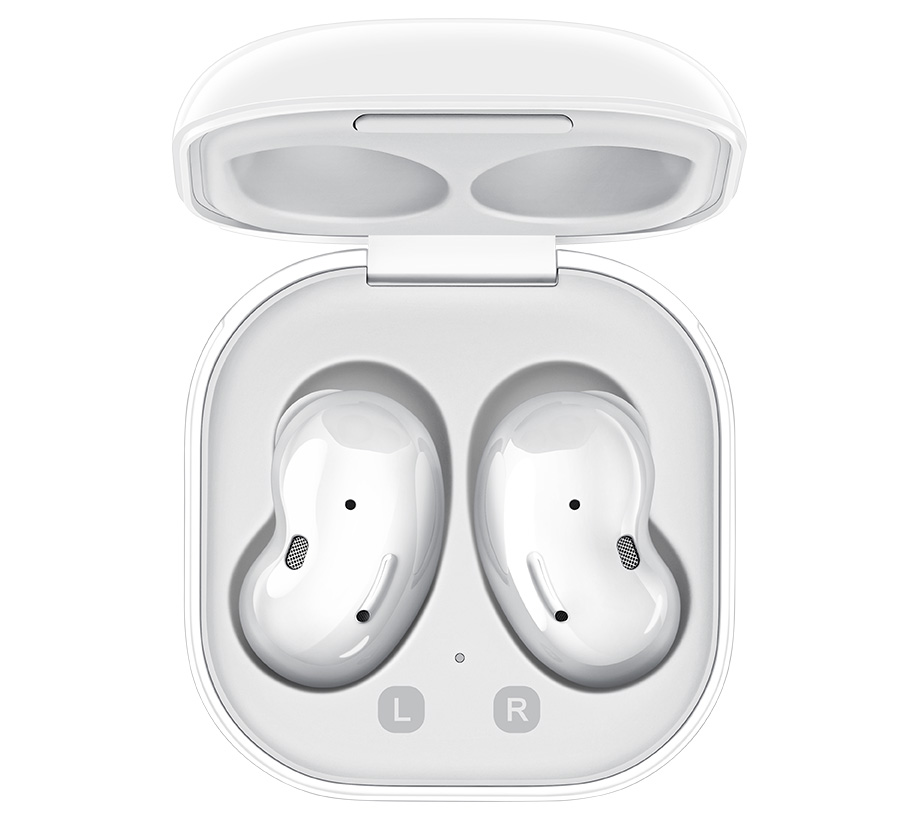 Vil du have det ekstra og et design, der kan mere end mange andre trådløse in-ear høretelefoner, bør du vælge Galaxy Buds Live fra Samsung. Galaxy Buds Live er bygget med et specielt design, i en skinnende farve og en form, der passer til dit ansigts kurver. Farverne er elegante og eksklusive på samme tid, hvor Mystic Bronze, Mystic White og Mystic Black vidner om noget helt særligt.
Galaxy Buds Live er et par stilfulde hovedtelefoner, der understreger komfort og pasform. De sidder behageligt og sikkert i dine ører, så du kan pendle, gå eller cykle uden at bekymre dig om, at de falder ud. Bare fordi de er elegante og eksklusive, betyder det ikke, at de ikke er funktionelle.
Med tre indbyggede mikrofoner får du altid den bedste opkaldsoplevelse, når du taler i telefon med din Galaxy Buds Live. Din Galaxy Buds Live registrerer vibrationer i din kæbe for at forbedre lydkvaliteten af dit opkald. Og du vil blive hørt tydeligt, selv når der er baggrundsstøj.